What is ALL-ON-4 dental implants for teeth in a day? (with photos)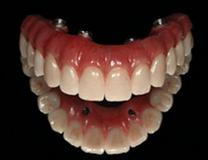 The all-on-4 dental implants refer to "all" teeth being supported "on-4" dental implants (also known as AO4). A full mouth fixed dental prosthesis for patients who have failing teeth, bad teeth, broken caps and bridges, and missing teeth. It may consist of full mouth teeth replacement having bad teeth due to severe periodontal gum disease. The 4 dental implants support a full mouth of teeth replacement of about 10 to 12 teeth. A fixed bridge with teeth is placed immediately or typically within 24 hours of dental implants placement.
Teeth-in-a-day with all-on-4 treatment is a valid, cost-effective, and more affordable alternative to conventional dental implant treatment.
With the advances in implant dentistry now available, If you have a full mouth of missing or failing teeth and broken caps and bridges,  the all-on-four treatment may be the optimal solution. It is proven and cost-effective. And it lowers the cost replacing all your teeth per arch with just 4 dental implants for a full mouth fixed dental prosthesis.
When it comes to weighing your options with teeth-in-a-day with dental implants, many people today are not seeking teeth replacements with dentures and instead, they are looking for a fixed and permanent solution.
Can you eat the night of All-on-4 implant placement?
The all-on-4 treatment is a dental implant protocol where in one day all bad teeth and broken caps and bridges are removed, 4 dental implants are placed, and a fixed temporary (or permanent) dental prosthesis is delivered for teeth-in-a-day. This surgery and full month teeth replacement take place in about 4-6 hours. The final result is a great looking smile, that is fixed to 4 dental implants at the time of surgery. It should be secure and stable. This will be worn for about 4-10 months, then the final fixed dental prosthesis (permanent bridge) is made. The final and permanent fixed prosthesis (bridge) has titanium reinforcement and is meant to last several years.
All-on-4 and missing teeth
All-on-4 for teeth-in-a-day is not your grandparent's denture. The all-on-4 is slim and with minimal pink acrylic around. It lacks the flanges or "wings" that traditional dentures have. It does not cover the roof of your mouth. Teeth-in-a day consists of a fixed and one piece bridge that is screwed into the 4 dental implants, these dental implants hold the teeth in. The all-on-four should neither rock nor move; it should be stable. You do not remove your dental prosthesis with all-on-four treatment, it is retrievable by a dentist only, but not by the patient. This gives patients security and a piece of mind.
A full mouth of missing teeth can be replaced with as few as 4 dental implants per full arch (upper teeth or lower jaw teeth) of fixed, non-removable dental prosthesis know as teeth-in-a-day. This remarkable life-changing treatment can be accomplished in a single day or with 24 hours.
Conventional dentures rest on the gums - which by their nature move. It is well known in the dental literature that with conventional dentures patients are only able to function at about 10% or less; with teeth, patients are able to function at 100%. Much of a difference with full mouth dental implants reconstruction like all-on-four, they provide a stable foundation for which we can build a fixed bridge with teeth - the fixed bridge of the all-on-four treatment concept. This arrangement of implants and prosthesis, transmit the forces the jaws generate directly to the food- translating in the ability to improve eating. Much of the force is lost at the gums with conventional dentures.
Please note, in the 90 days after 4 dental implants placement, the patient is asked to maintain on a soft diet. This is because the bone around the 4 dental implants during the first 3 months undergoes some changes healing and if overloaded, could be at risk of failure.
What is All-on-4 Teledentistry?
All-on-4 Teledentistry is a new form of remote diagnosis and treatment plan development of patients by means of telecommunications technology.
Teledentistry allows all-on-4 dentists to evaluate and diagnose patients in remote locations using telecommunications technology.
Teledentistry allows prospect all-on-4 patients in remote locations to access dental implants for teeth-in-a-day expertise quickly, efficiently and without travel.
Max Arocha DMD has pioneered the ALL-ON-4 dental implants online live video consultation for real-time with all-on-4 patients. Teledentistry face-to-face live interactive video gets you a smile analysis while going over details for teeth-in-day. Get all of your ALL-ON-4 questions answered at your convenience with a "all-on-4 teledentistry" mobile App.
Teeth-in-a-day with all-on-4 there is no need for denture adhesives
Denture creams and adhesives are a thing of the past when your denture is converted and screwed into the 4 dental implants with all-on-4 procedure concept. There is absolutely no need for the goop!
How much does all-on-four dental implant cost?
Teeth-in-a-day with all-on-4 is less costly when compare with traditional full month rehabilitation dental implant treatment for people with bad teeth, no teeth and soon to lose all his or her teeth. For all-on-4 dental implant cost, we have an all-inclusive fee that coves everything from teeth removal, bone grafting if needed, 4 to 6 dental implants, and temporary and final permanent bridge. If you are looking at multiple offices the fee will be split between the offices, meaning a surgical portion as phase I and then a restorative portion as Phase II.
Shorter treatment times with all-on-4
The ability to angle or tilt of the back implants prevents the need for time-consuming and costly bone grafting procedures known as a sinus lift. Most of the patients we treat are able to receive their dental implants and a new set of non-removable teeth on the same day or the next day. The following is an approximation of your typical All-on-4 treatment timeline. On consultation day there is a detail discussion about your smile and of potential treatment options. The planning for the doctor. Then the day of the actual all-on4 treatment, you arrive at the office in the morning. We then escort you to your private room where you are prepped for surgery. The sedative is administered then once you are ready, we administer a local anesthetic as necessary and begin the procedure. The surgery is usually brought to an end later that morning.
After dental implant surgery, we would then fit, screw in and deliver your initial set of teeth fixed dental bridge. You will then be allowed to return home, typically early in the afternoon, to start and enjoy your new smile. Your follow-up appointment varies from patient to patient. It is scheduled usually a few weeks to two months out to ensure you are healing well
The recovery time for all-on-4 dental implants varies from patient to patients due to their clinical dental condition. We prefer to perform Teeth-in-a-day and dental implants surgery with our advanced computerized 3D dental treatment software whenever possible. Our advanced surgical computerized guide protocol from Anatomage® not only delivers high precision for implant surgery including all-on-4 concept but also significantly decrease recovery time for the patient. Our dental implant 3D software is a highly effective tool that, in certain clinical cases, delivers minimal invasive surgery for a fast recovery.
Then around six months later, your temporary bridge may be replaced with your final bridge. But sometimes the final bridge is delivered within 24 hours when the surgery is performed under computerized guide protocol. This is possible with all-on-four dental implant guided surgery only. Periodic dental visits with the hygienist are suggested for proper maintenance protocols. A visit twice a year with any dentist is recommended. Keep in mind, every patient is different, so make sure you understand the treatment timeline discussed with you by our dentist and dental implants team members.
Teeth-in-a-day provides a great looking smile.
The all-on-4 treatment is a great procedure for the patient to smile about. Replacing the whole mouth of teeth with dental implants allow dentists to uniformly create a beautiful and harmonious smile. Patients can feel free to smile, eat, drink, and speak knowing there is no slippage or chance for of embarrassing moment if your teeth slip or fall.
All-on-4 dental implants benefits and before and after (phtos)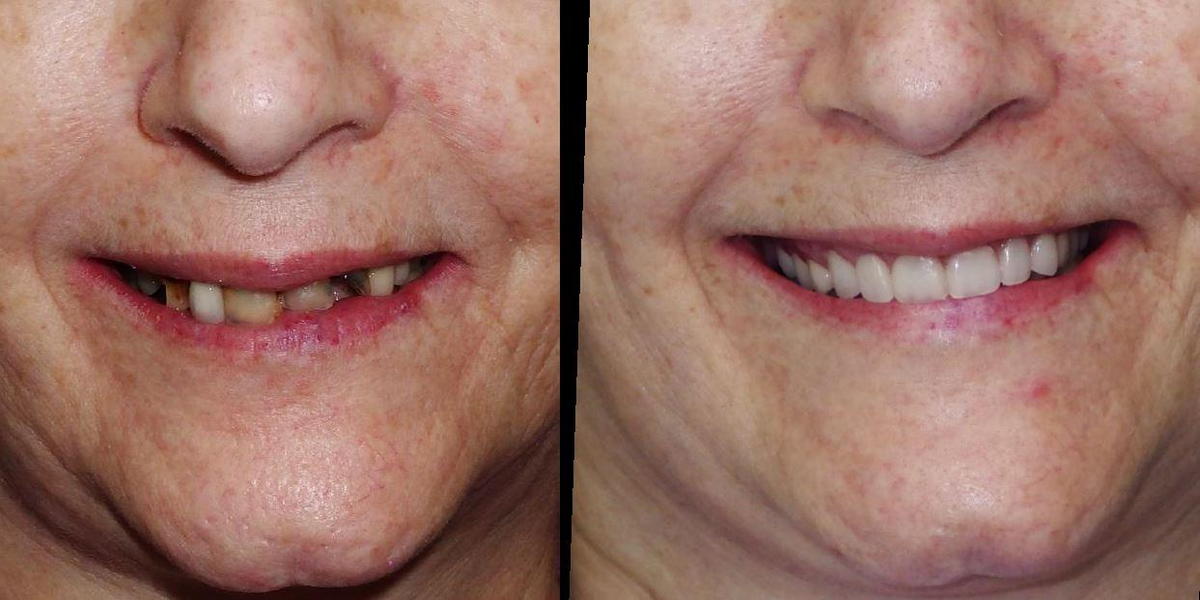 People have regained confidence by replacing bad teeth with All-on-four dental implants. In the US All-on-four has become popular and preferable among people over the age of 45 years old because it can replace an entire mouth of teeth with just 4 dental implants in a one-day surgery. Because this treatment costs less than other options, many more people are able to restore their entire smile with affordable all-on-4 dental implants. It's possible to replace all of your teeth in just one day known as teeth-in-a-day. Some of the Benefits include:
A full set of new teeth in only one day creating a new smile
An entire single arch smile with only 4 dental implants
One surgery
All teeth replace over a secure placement of 4 dental implants deep in the jawbone
No bone graft usually necessary
A more affordable cost than other treatment alternatives, making it easier to replace teeth with affordable all-on-four dental implants