How much does all-on-4 dental implant cost?
As of 2023, our ALL-ON-4 dental implants cost starts at about $19,889 per arch for a set of permanent teeth. The All-On-4 procedure is for patients who have failing teeth, bad teeth, broken caps and bridges, missing teeth and don't want dentures. Our starting cost of an all-on-4 procedure includes the surgical placement of 4 dental implants, mild sedation, and delivery of a permanent set of teeth for a single arch (permanent implant-supported fixed bridge). Additional charges may include general anesthesia and extractions.
We have been on an epic ride ever since we have pioneered several ALL-ON-4 techniques for better care. Please note that our patients save on their costs anywhere from $4,000 to about $6,000 per arch when all the treatment is completed in our office. Our all-on 4 cost is affordable and the cost is much lower when compared to a two-location approach, where both doctors from two locations would charge separate fees, significantly increasing the total cost of treatment.
In general, all-on-4 dental implants treatment (also known as AO4) and most of the lab work is performed in-house for a full mouth of teeth in a day. Nevertheless, in many cases when extensive lab work is required, the set of teeth is delivered in 24 hours.
We are looking forward to listening to your unique dental situation and helping you get your smile back so you can eat and speak with a high degree of confidence. Dr. Max Arocha enjoys very much helping patients get their smiles back with all-on-4 dental implants. He spends several hours every week replying to emails, answering phone calls, reviewing x-rays received in the mail, performing free exams, and countless complimentary consultation services.
While the vast majority of certified all-on-4 clinicians in the dental implant industry take a traditional approach of using just local anesthesia during treatment, our all-on-4 facility is state board certified in sleep dentistry including twilight sedation and general anesthesia to more conveniently serve our patients, expedite their treatment and lower the overall cost. We provide advanced anxiety-free service. The US and International patent holder and medical staff at Memorial Hospital Doctor Max Arocha DMD have pioneered several all-on-4 techniques including using advanced hard tissue lasers with surgical computerized 3D surgical guide protocols. We were the first one to minimal invasive place all-on-4 dental implants, for denture patients, without the use of a surgical scalpel.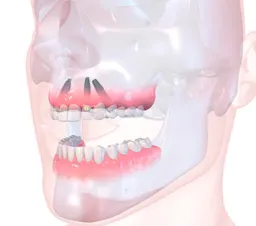 Additional all-on-4 cost depends on several factors including the system and type of teeth the patients may want as a full mouth permanent dental implant-supported fixed bridge for teeth-in-a-day replacement.
These full-mouth fixed bridges can be made out of zirconia or a combination of acrylic teeth over a titanium framework (known as hybrid permanent bridges). (Continue reading below for the different types available).
A zirconia permanent implant-supported fixed bridge is occasionally recommended for strength and durability. A combination of using permanent acrylic teeth over a titanium framework (often called a hybrid permanent bridge also known as a full-mouth restoration with implants) is preferred for control, durability, and repairability.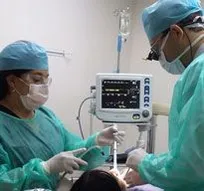 Keep in mind that there may also be some additional procedures required prior to the placement of teeth-in-a-day with all-on-4 to ensure its long-term success rate. Additional procedures may be required including controlling any broken caps, failing bridgework, and gum infection prior to surgery. In certain all-on-four clinical cases, when the patient's gums are in severe condition, Dr. Arocha works together with our in-house periodontist, and gum specialist, to achieve a great smile by removing any gum disease including gingivitis and periodontitis all within 24 hrs.
In general, teeth-in-a-day over 4 dental implants often results in lower cost, making it more affordable, because it allows for fewer dental implants being placed versus traditional dental implants for full mouth reconstruction. The teeth-in-a-day treatment option is a cost-effective procedure for those people suffering from failing teeth, bad teeth, and broken caps and bridges. Even people who have no teeth and are wearing loose-fitting dentures are great candidates.
We pride ourselves in utilizing dental implants that are backed by research and, as our dental implant quality standard, we only use high-grade titanium that is FDA approved.
All of our permanent set of teeth prosthesis parts and materials are made in USA dental lab including acrylic teeth, PMMA, zirconia teeth, and titanium bars. Our fixed dental bridges custom-made are white and natural-looking in color to match your natural teeth. Each tooth is meticulously positioned to give you a natural-looking appearance to compliment your face with a great smile.
You would spend approximately one-hour one-on-one with Dr. Arocha. Teeth-in-a-day consultation is all about listening to your unique dental situation and the history of your teeth and gums. In addition to comprehensively and effectively going over details of your CT scan including addressing all aspects of your teeth condition and smile.
Since his hospital implant training in Pennsylvania, hundreds of dental implant surgeries, for 15 years, have been performed by Dr. Max Arocha DMD.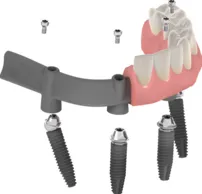 We have intravenous moderate (IV) sedation (known as twilight Anesthesia ) and general anesthesia available for all teeth-in-a-day over 4 dental implant treatments. Our dental implant treatment starts with a free consultation. At this complimentary consultation, you would be examined by Dr. Max Arocha who has the clinical experience of performing this type of dental implant surgery (4 dental implant placements for teeth-in-a-day). He is looking forward to meeting with you and listening to the story behind your smile.
Dr. Arocha is passionate and generous about helping patients get their smiles back. Along with his extensive training in oral implantology and dental lasers, Dr. Arocha possesses a unique eye for smile design helping patients look younger.
How to get an ALL-ON-4 complimentary iCat CBCT Scan for dental Implants
Cone beam CT scanning has brought a new dimension to dentistry for dental implanta patient. In all aspects of diagnosis, treatment planning, surgical preparation and execution, follow-up, and management of complications, we now can treat our implant patients with increased precision and predictability.
New patients save $375 on all-on-4 with our complimentary service. The i-CAT Cone Beam 3D dental imaging system and all necessary radiographs allow us to provide a quick, comfortable, and effective dental imaging for precise all-on-4 dental implant diagnosis and review. i-CAT dental implants features include:
8 and a 23-second scan that provides enough data for a complete all-on-4 procedure.
A safer diagnosis with less radiation than traditional CT scanners.
Increased comfort. Dental implant patients are seated in an open environment with plenty of space.
A more cost-effective imaging system. (Free for new all-on-four dental implant patients)
We can easily review and share the dental implant data with patients, so patients stay informed and are able to make educated decisions on their course of teeth-in-a-day treatment.
Our office is pleased to offer i-CAT 3D Cone Beam imaging for patients receiving dental implant treatment. Come and see for yourself what it's like to receive an advanced, patient-friendly 3D scan.
How is the ALL-ON-4 recovery time with modern technology?
We prefer to perform All-On-4 procedure with our advanced computerized 3D dental treatment software whenever possible. Our advanced surgical computerized guide protocol from Anatomage® not only delivers high precision for dental implant surgery but also allows all-on-four patients to eat, a soft diet, the next day. In addition to significantly decreasing recovery time. Our implant 3D software is a highly effective tool that, in certain clinical cases, delivers minimal invasive surgery for fast all-on-four recovery time.
Measure bone density and plan implants simultaneously within a 3D volume. Avoid potential surgical complications by checking for root entanglement prior to extractions with automatic nerve canal tracing.
Since this is a minimally invasive procedure that uses sedation dentistry including IV and general anesthesia, the recovery period is fairly simple . The sedation should mostly wear off in approximately 6 to 8 hours following the procedure, therefore you will need to ask a trustworthy friend or family member to drive you home. You'll also need to follow a liquid and soft food diet for a few days. In the event you do notice any immediate pain and swelling, pain medications can help. About 8 out of 10 patients are able to resume work within two days.
On the other hand, if high number of teeth and severe infections removal are required, you can expect a healing period of about 10 days. Following the procedure, you can now have a strong and durable permanent set of teeth placed on top of the implants. After approximately six months, the implants will have integrated with your bone . After this period, you may need to return to our office so that Dr. Max Arocha can inspect your permanent set of teeth for possible minor adjustments. You'll need to take antibiotics and use an antimicrobial mouthwash during this time. These permanent dental prosthesis that are screwed to the implants are called hybrids and they don't come out of the mouth like traditional removable dentures .
What can I eat after the All-On-4 procedure?
Here is a list of several kinds of soft foods to keep in mind after implant surgery menu interesting. In general, a soft diet like gelatin, pudding, soup, ice cream, yogurt, etc. is advised during the first two days following surgery in order to avoid small and large food particles from lodging underneath the wound. Semi-liquid foods including mashed potatoes, eggs, and soft pasta may be added to the diet on the third day. You may resume a normal diet after the first two weeks. Avoid crunchy, hard foods like popcorn, nuts, and chips for four weeks following surgery. Smoking and consumption of alcoholic beverages should be avoided for the first two weeks.
Remember that even though food is soft ask yourself is it spicy? Very hot? Are there seeds, even small seeds like poppy or sesame? Rice and quinoa, even when cooked extra soft, could get under your all-on-4 bridge and might not be the best option, at least in the first week of healing. Visit our All-on-4 diet page for more detailed information.
What are ALL-ON-4 different payment options and financing? (Best Choice)
The best choice of patient financing for the ALL-ON-4 makes it possible for patients to receive dental implant treatment.
This Program offers flexible financing. The Program offers an easier way to pay for treatments not covered by insurance and to cover deductibles
Should the cost of all-on-4 for teeth-in-a-day prove prohibitive for an individual, are there options to consider that can put all within reach and save you time and money? We have found that LendingClub online application is fast and easy. It takes just minutes, with no impact on your credit score. Financial times have changed, and credit scores are no longer the main factor for patient dental implant financing. You can instantly review the loan offers that you qualify for, and you would not need to visit a branch to complete your application.
Our dental office is affiliated with LendingClub for teeth-in-a-day with all-on-4 dental implant treatment. LendingClub can finance over $30,000 for upper and lower jaw full mouth teeth replacement. All LendingClub financing payment plans feature an affordable fixed rate, which means your monthly payment does not increase. In addition, you can prepay your loan at any time and there's no prepayment penalty or fee.
With this type of teeth-in-a-day dental implant financing plan, patients can break up the total cost of treatment into a series of monthly payments. Click on the LendingClub logo above to apply online and check your options in just minutes. Please note: (Under doctor name you must type: " max arocha ")
Types of dental implant fixed bridge prosthesis for the full mouth [photos]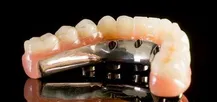 Dental implant fixed acrylic teeth prosthesis over a titanium bar on 4 dental implants. The titanium bar may be hidden under the acrylic upon request. (Permanent hybrid fixed bridge)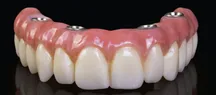 Dental implant-supported zirconia teeth over a pink zirconia base on 4 dental implants. (Permanent fixed bridge)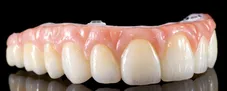 All-acrylic teeth over a pink all-acrylic base on 4 dental implants (temporary hybrid bridge for 4-10 months).
What is the cost of a full mouth set for Teeth-in-a-Day with dental implants for denture patients?
Most traditional dental clinicians place about six to eight dental implants per arch for a full set of teeth in patients who have a bad failing, missing teeth or dentures. When you factor in the cost of each dental implant surgery, related dental lab work and materials, follow-up visits, and dental implant healing time before loading, it's easy to see that a fewer dental implants treatment save time, money, and effort relative to traditional implant treatment that may cost well over $30,000 for one arch. Fewer dental implant reduces total healing time and cost. In certain clinical cases where no extractions are required, you may be eating soft foods and drinking as soon as you leave the dental office or within 24 hours with a budget of about $20,000+ per one arch for fixed permanent teeth-in-a-day.
A full mouth set of teeth replacement treatment over a few dental implants such as all-on-four dental implant treatment is specifically designed for people with teeth in poor condition, those who are wearing dentures, and those in need of full mouth upper and/or lower teeth replacement. Qualified patients receive as few as four dental implants and a set of new fixed dental implant-supported replacement teeth, usually in one day. The major benefit of having fewer implants is how quickly dentures can be replaced with a permanent fixed bridge. This efficient treatment concept saves time and cost.

Out-of-state travelers for Teeth-in-a-Day for full mouth dental implants prosthesis.
If you are an out-of-state traveler flying over to our dental practice in Fort Lauderdale for our all-on-4 complimentary consultation, we suggest first contacting our All-On-4 designated team member Nichol. We would like to first hear your unique dental situation and the story of your teeth and gums. We may suggest for you send over a CT scan and/or a panoramic radiograph for Dr. Arocha to carefully review it before your arrival.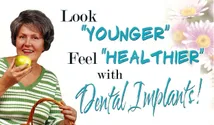 Since we have a significant number of people from out of state interested in having teeth-in-a-day with all-on-four treatment, we ask you to please be patient and keep in mind every case is different. It takes time and planning to come up with a detailed all-on-four treatment plan and be able to provide a full mouth set of teeth replacement with dental implants.
We offer the convenience of having teeth-in-a-day with all-on-four treatment in one office. Our patients save anywhere from $4,000 to $6,000 per arch by having the all-on-four treatment in one single location. We are conveniently located 10 miles from Fort Lauderdale International Airport. Hotels are within walking distance of our dental office.
How long do All ON 4 implants last?
The success rate of the lower and upper jaw. The all-on-4 implant procedure is a proven long-term solution with high survival rates and with up to 10 years of follow-up in the mandible and 5 years in the maxilla.
A clinical study published in October 2014 in the Journal of Clinical and Diagnostic Research included 242 patients with 968 immediately loaded implants supporting fixed complete upper jaw all-acrylic prosthesis demonstrated a high survival rate of 93% at the patient level and 98% at the implant level after a 5-year of follow-up.
In general, a cumulative survival rate is high in both maxilla (upper jaw) and mandible (lower jaw) according to scientific evidence reviews
Mid-term 3–4 years: 96.3–100%
Long-term 5–10 years: 94.8–98.0%
A more recent study encouraged the use of the All-on-Four concept emphasizing that when planning a fixed rehabilitation in the upper jaw using four implants, the quality of bone, the length of implants, and the patient's habits should be considered.
The fixed bridge prosthesis (bridge over the implants) survival rate . According to Dr. P. Malo, the originator of the All-on-4 concept, the bridge survival rate in the lower jaw was 99.2% after 10 years of follow-up. In the upper jaw, after 5 years of follow-up, the bridge survival rate was 100%.
Does insurance cover ALL-ON-4?
Yes, many dental insurances cover a portion of all-on-4 dental implants. Our dental insurance claim specialists have experience in working with most dental insurance to maximize your savings for all-on-four and teeth-in-a-day treatment. We take all major PPO dental insurance such as Delta Dental, Metlife, Cigna, Humana, Guardian, AETNA, Blue Cross Blue Shield, etc. We have been successful in having an insurance company paying $2000 and more for the cost of teeth extractions in relation to all-on-four.
When it comes to full mouth teeth replacement with dental implants our dental implant billing coding specialists can submit insurance claims to the dental insurance company on your behalf and/or provide you with a detailed breakdown of charges and updated 2018 dental procedure codes, known as CDT, to submit to your dental insurance company coverage.
Most dental insurance plans may cover at least a portion of the fee charged to add teeth to your dental implants. The best way to learn more about your insurance policy is to have Maria Sherman call and speak with your dental insurance company directly. This way we can help you determine the estimated out-of-pocket cost of the all-on-four treatment and assist you with a payment plan or financing if you wish so.
In our years of experience, many dental insurance companies partially cover the all-on-four which means that you should process and send out a dental implant claim to them. However, some offices don't allow you to claim the cost of the surgery itself. This is because, in spite of the health benefits that can be provided by dental implants, many insurance companies still classify it as a cosmetic procedure.
While most dental insurance questions can be answered easily and quickly, the question of whether dental insurance covers teeth-in-a-day with all-on-four takes more time to get an accurate answer.
How much Teeth-in-a-Day cost?
We offer an all-inclusive teeth-in-a-day approach that not only streamlines a full mouth set of teeth replacement on dental implant treatment but saves you time. Our approach also makes the teeth-in-a-day with all-on-four dental implant treatment much more affordable.
We also provide single teeth-in-a-day. The cost for a single implant is about $2,200 plus the implant crown. The dental implant cost depends on the condition of the gums and jaw bone. The cost for two-implant placement for a three-unit fixed bridge starts at about $3,800.
When multiple teeth are being replaced by dental implants, Teeth-in-a-day is indeed possible in most clinical situations. It is done when all of a patient's lower and/or upper teeth are being replaced at once by dental implants and a permanent bridge within 24 hours.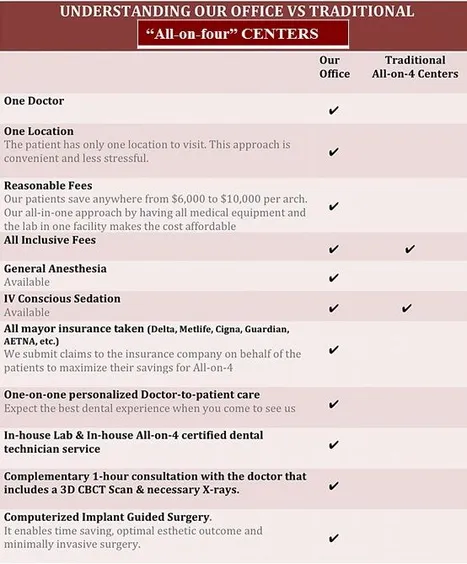 Who is a candidate for ALL-ON-4®?
The most important criterion for teeth-in-a-day candidacy is having sufficient bone structure in your jaw to accommodate the 4 dental implants. If you lack sufficient jawbone volume and bone density, the 4 implants may not be able to withstand the biting forces exerted by chewing and therefore the implants may not be loaded with your permanent bridge the same day. In general, and over 90% of the time, patients neither need bone grafting nor sinus lift due to the nature of the ability to place the implants where the available bone is located and then perform "dental implant angle correction" to allow for a precise fit and accurate bridge placement for teeth delivery
ALL-ON-4® before and after [photos].
Experiencing life from having severely bad teeth, failing caps and dental bridges is emotionally exhausting for many patients. Our great satisfaction in serving our wonderful patients with their journey of having teeth-in-a-day for a new smile, especially when patients' tears of happiness are present, is difficult to put into words. Every all-on-4 new smile experience has a story to tell...When we met our patients in real life, we ask questions to get to know them better. We listen to their past dental work, previous dental experience, and beliefs.
We try to unearth their dental and life story and tell our own as clinicians. The end goal is to find out if we can bring these patients back to good oral health and give them a great smile. In this process of knowing each other we tap into the underlying reason patients lose their teeth and why they have decided to come to see us – to get to be the very best version of themselves; a version they have always had within them that got lost along the way.
Dr. Arocha understands that emotional health and physical well-being are intertwined. But it's not always clear how each element affects his dental implant patients.
We have found that most of our patients know that a negative emotional state due to the lack of a healthy smile or having an embarrassing smile, whether from having periodontitis or bad teeth from childhood, can have a correlating effect on the way they feel physically.
For instance, feeling depressed from not having the ability to smile in front of people can make a patient less likely to date, eat with confidence, and maintain and find a job.
During their first initial dental implant consultation, our patients react to a dental diagnosis with a range of emotions, including fear, sadness, and other emotions, and in some cases, low self-esteem. Patients are individuals, with their own unique set of life experiences and their ways of coping emotionally with stressful teeth-related situations. A great smile, like the ones seen in our Before and After photos below, plays a role in that having an understanding of one's dental condition and smile, and a sense of accomplishment.
We are not professionals expected to be psychotherapists or counselors, nor to deliver direct mental health services to our patients. However, it is important for Dr. Arocha and his team to be able to recognize the emotional reactions of our patients for a variety of reasons.
First, while newly-diagnosed all-on-four patients may have access to their emotions and express them openly with Dr. Arocha, they may also suppress their feelings. Suppressed feelings ultimately have the same effect on conversations about a dental diagnosis as do directly expressed feelings. Occasionally, our patients struggling with emotions have a history of interaction with their former dentist(s) in a way that has not been productive.
Our oral healthcare professionals, despite the challenges and the limitations, do play an important role in helping patients cope emotionally with a dental-related diagnosis. For better or worse, patients may, at least when initially diagnosed with hopeless teeth, have no other emotional support beyond, for example, the members of our dental team. Family members may not yet have been brought into the discussions about their diagnosis, or they may not yet be ready themselves to cope with the diagnosis.
While our patients develop emotional support with our team members, often with the guidance and encouragement of their family members, if they can make an emotional connection early on in their diagnosis, they will be that much better prepared to cope as they move forward with their new smile from having teeth-in-a-day treatment. Our oral healthcare professionals can essentially pave the way for our patients.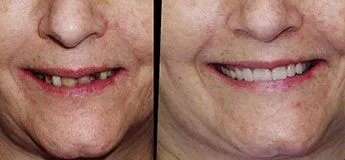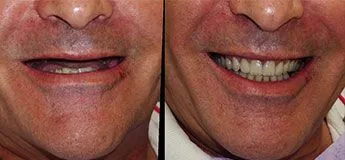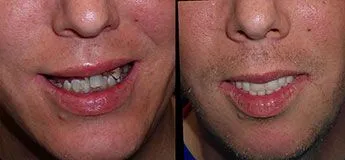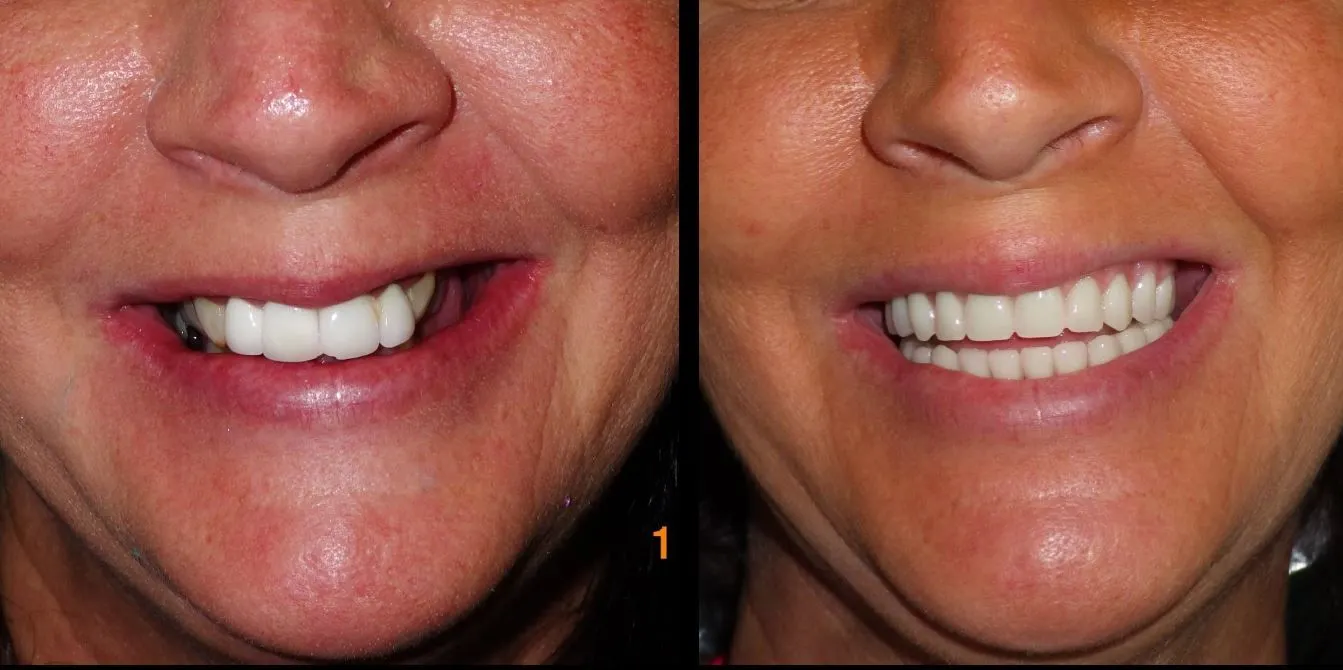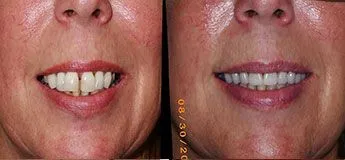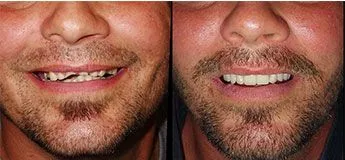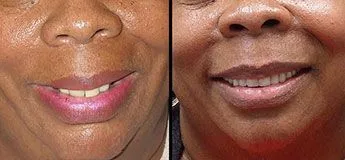 All-on-4 dental implant patient reviews
You may look us up online for all-on-4 reviews to learn more about our patient's reviews.
Due to privacy concerns, we do not often encourage most of our patients to post reviews making their all-on-4 ® cases public. However, when they do we try our best to reply to them to build patient trust as a verified healthcare provider. Since reviews are only valuable when they are honest and unbiased. Most of our Florida base patients and out-of-state All-On-4 dental implants patients spread the word about the their experience at our sedation and dental implant clinic. To click here to learn more about All-On-4 dental implant doctor
All-On-4® Doctors
Modern implant-based doctors have provided a solution for immediate functionality with substantially increased quality of life. Accomplished through a fixed teeth-in-a-day permanent bridge prosthesis held solidly in place by four dental implants, this advanced procedure performed by experienced doctors provides comfort and security patients often miss with removable dentures while at the same time preserving the jaw bone and often bypassing the need for bone grafts like a sinus lift. By eliminating the daily frustration and discomfort of loose and breaking down teeth, patients can once again enjoy the dietary freedom of those with natural teeth with the most sophisticated solution there is to tooth loss.
The All-On-4 dental implant procedure is best for patients with significant failing dental restorations like crown and bridgework, gum disease, tooth decay, and for people whose bone loss in the jaw, area prevents them from getting traditional dental implants. Our All-on-4 doctors will discuss your options during your consultation.
What medications are prescribed after the ALL-ON-4 procedure?
Unfortunately, most ALL-ON-4 procedure is accompanied by some degree of discomfort. Surprisingly there has been a high number of cases that has not required strong pain medication after having teeth removed and the ALL-ON-4 procedure completed. However, in certain clinical cases administering medication via intravenous therapy (IV) is the great short-term management of moderately severe, acute pain that requires the patient not to take pain medication the day after the ALL-ON-4 procedure.
If you do not have an allergy to non-steroidal anti-inflammatory medications like Ibuprofen, Motrin and Advil we may recommend taking the morning of having the procedure done.
You will need a prescription from your doctor before you start taking any strong pain medication for pain. The doctor can adjust the dose as needed to help control pain.
You may receive around-the-clock doses to manage pain throughout the day and night. Our doctor may prescribe pain medication to be taken "as needed" in case you have "breakthrough" pain -- a flare of pain that you get despite round-the-clock doses.
While you're on strong pain medications, check in with your doctor regularly. Our doctor will need to know:
How is your pain responding to the medication
Whether you're having any side effects
Whether you have any potential interactions or medical conditions that could make you more likely to have side effects, such as sleep apnea, alcohol use, or kidney problems
Whether you're taking the medication properly
Some prescription pain medication will make you drowsy, do not drive or operate mechanical machinery while taking the prescription. Alternate Ibuprofen (2 tablets / 200mg each) and the any other prescribed medication every four hours if needed. Once you feel like you can stop the pain medication, use Ibuprofen. You may also be prescribed an antibacterial mouth rinse which should be used twice daily in the first two weeks following dental implant surgery. Post-operative antibiotics should be taken as directed and always take the entire course of the prescription. All medications should not exceed the recommended dosage.
How to avoid ALL-ON-4® problems
Damage to your teeth in a day with all-on-4 can occur suddenly and gradually. A broken fixed bridge may cause discomfort. This type of teeth-in-a-day may become damaged in a variety of ways including biting something hard, natural wear of 5 plus years, and tear. When a broken and fractured all-on-four bridge, you need immediate care to prevent further damage to the titanium bar and irritation to your gum, lip, cheek, and tongue. In general, damage to this type of permanent bridge worsen over time and require more extensive and costly repairs. This is because over time a damaged permanent bridge may cause overstress in a specific area, causing a break that may continue to worsen.
We provide any type of repair of All-on-4 dental implants same-day or within 24hrs capable of restoring your set of permanent teeth to a functional state.
What is All-On-4® Teledentistry?
ALL-ON-4 Teledentistry provides live video consultation with the doctor! Send us an email so we can invite you to download our App and have convenient access to ALL-ON-4 doctor online via mobile live video and text messaging. Using secure texting and online live video App technology service can screen your smile profile, have diagnosed your front teeth condition, and go over different possible options all while answering all of your questions.

All-on-4 Teledentistry focuses exclusively on ALL-ON-4 ® dental implants for teeth-in-a-day. Whether it's replacing multiple teeth or the full mouth with top and bottom arches, their doctor offers patients a world-class level of expertise. With all-on-four teledentistry you can start texting a certified ALL-ON-4 team member and book a live video consultation with the doctor from the convenience of your home. This allows for dynamic visualization and qualification analysis. This online analysis would help determine the course of your ALL-ON-4 dental implant treatment and assist you in creating your treatment plan.
The choice of a single dental implant vs four dental implants.
The choice is clear only if you know how to choose a dentist who places dental implants when it comes to having "teeth-in-a-day" with "all-on-4® " and a single implant for tooth replacement. Many times the choice is neither clear nor easy. Especially when it comes to making the right decision for your smile based on the many options available.
With increasing emphasis on dental implant value and efficiency, quality time between dentists and patients has become more and more a valuable resource. In general, the dentist who is successful and experienced in dental implants spends significant time in face-to-face contact with patients gathering relevant medical health and dental-related information. Performing a detailed dental evaluation work of your gums and bite is an important aspect of implant dentistry.
So what should you look for when searching for an implant dentist so you can have the best choice presented to you?
First, your dental implant expert should be a licensed dentist.
Second, your dental implant expert should have an education in dental implants.
Next, your dental implant expert should be experienced. Dental implants are not "one size fits all." They are complex, sophisticated dental devices, and you should expect your dental implant expert to have over five years of experience in the practice of implant dentistry.
Finally, your dental implant expert should be competent. At a minimum, when it comes to having a single tooth implant, from an implant center, make sure he has performed a variety of treatments ranging from a single tooth to replacing multiple teeth, like all-on-4, on several different patients.
With this basic information, the choice of having dental implants may be achieved without great effort and with few difficulties when you begin searching and interviewing dental implant centers to find one that is considered a dental implant expert.
Our understanding is correct, and yes there are some potential risks to go with the definite benefits of an immediate and permanent missing tooth replacement with a dental implant. There are three parts to the procedure that the dentist and team members need to consider in making this dental implant treatment successful, which includes how you will look with your new tooth in the early healing phase. They are:
Removal of the existing tooth or root;
Simultaneous placement of the implant, which will become the root part of the new tooth;
Placement of a crown, which will become the part of the new tooth you see in your mouth that sits atop and connects to the implant.
There are many issues and steps to consider. First of all, it is quite critical that your broken tooth is removed very carefully so that the tooth socket — the bone that supports the tooth — is not damaged. It will become the receptor site for the dental implant. If any bone from the walls of the socket is damaged or lost, it could lead to an unsightly gum recession or the possibility of having to end the procedure rather than risk a poor result.
Secondly, it is critical to place the implant so that it is stable and non-movable in the bone. The bone around an implant heals by fusing to the implant's specialized titanium surface by a process called osseointegration ("Osseo" – bone; "integrate" – fusion with). The tooth socket of an upper front tooth is cone-shaped, and generally, the only way to stabilize an implant is to penetrate the apex (pointed end) of the socket and affix it to the bone in this area. It's almost like placing a screw into a previously drilled wooden hole that is too large; the only way to stabilize the screw is by engaging the wood beyond the screw's original length and width. However, when the implant is properly and carefully placed, the bone will grow, traversing the remaining gap, and heal by fusing to the implant. Choosing the right-sized implant for this situation and making sure that it is placed in exactly the right position are both critical to success.- See more at http://www.deardoctor.com/inside-the-magazine/issue-23/same-day-tooth-replacement-with-dental-implants/#sthash.uwObLqxF.dpuf
Those who have lost all of their teeth and are soon to have their last failing teeth removed, have several options for tooth replacement. One of the most advanced and reliable techniques is to permanently attach a dental prosthesis tooth to a single dental implant that is anchored in the jawbone. Implant-supported teeth look and function just like real teeth, and are maintained with the same oral hygiene practices, such as brushing and flossing. They provide important health benefits. And while dental implants are relatively expensive, a newer procedure that also provides functional teeth on the same day dental implant surgery is performed has brought the cost down and put this great technology within the reach of many patients. Implant-supported teeth allow normal function of the whole mouth including the nerves, muscles and jaw joints. By permanently replacing missing teeth and lost gum tissues, implant-supported teeth restore the support of the facial structures (cheeks and lips support), thereby creating a more youthful appearance as well as the ability to function normally. This includes chewing tough foods, eating fresh fruits and vegetables, laughing, kissing, speaking confidently, and smiling with joy. - See more at http://www.deardoctor.com/articles/new-teeth-in-one-day/#sthash.U9uBVqaH.dpuf
How to clean ALL-ON-4 dental implants
A daily oral hygiene regime must be followed when cleaning around ALL-ON-4 dental implants. The gums around the dental implant and Teeth-in-a-Day bridge need special attention as food particles can easily get trapped around the base between the gum surface and underneath the bridge.
ALL-ON-4 cleaning 7-tips to set the stage for adequate hygiene:
Use a Waterpik twice a day by accessing the bridge from the outside or find access points that result in the greatest dislodgement of trapped food. We recommend using a medium setting. The high setting might separate gum tissue attachment from the implants.

Floss under the bridge once daily. Oral-B floss works well, but if the firm end softens too quickly, have patients tie the Super Floss to a floss threader (figure 6). Some patients prefer curved and firmer bridge threaders. I give samples of all of these to my patients, so they can customize their home care.

Look into buying multiple shapes and sizes of specialty toothbrushes and interdental brushes specifically designed for implants. Patients can buy them on Amazon.com.

Use a small soft brush to clean the part near the gum tissue. A small brush is about one-third the width of a traditional toothbrush. clean and massage the tissue contact areas of the bridge.

Rinse daily with an antiseptic mouth oral rinse to debride smaller particles from under the bridge.

If soft-tissue swelling occurs, rinse with warm salt water for three days. If the swelling persists, call your dentist.

Some patients may need a prescription mouth rinse like Peridex made from 3M if there is consistent bleeding for two weeks. Call your dentist or hygienist to get a prescription mouth rinse as needed.
How to floss ALL-ON-4 Dental Implants
Dental flossing ALL-ON-4 dental implants enable you to insert the floss between the implants bridge permanent teeth at the gum line and pull it through to the other side. You can then lean it against the implant surface and rub out the food trap . You must be as diligent with removing plaque from around your implants as you would with natural teeth. The best means for doing this is to floss around each implant post between the bridgework and the gums as shown in our video here. This type of flossing is quite different than with natural teeth where you work the floss in between each tooth. With your bridgework, you need to thread the floss between it and the gums with the help of a floss threader , a small handheld device with a loop on one end and a stiff flat edge on the other.
To use it you'll first pull off about 18" of dental floss and thread it through the loop. You'll then gently work the sharper end between the gums and bridge from the cheek side toward the tongue. Once through to the tongue side, you'll hold one end of the floss and pull the floss threader away with the other until the floss is now underneath the bridge. Then loop each end of the floss around your fingers on each hand and work the floss up and down the sides of the nearest tooth or implant. The next step is to release one hand from the floss and pull the floss out from beneath the bridge. Rethread it in the threader and move to the next section of the bridge and clean those implants. Please notice that there are only three spots between 4 implants you can floss.
You can also use other methods like specialized floss with stiffened ends for threading, oral irrigation, or Waterpik which emits a pressurized spray of water to loosen plaque, or an interproximal small brush that can reach into narrow spaces. If you choose an interproximal brush, however, be sure it's not made with metal wire, which can scratch the implant and create microscopic crevices for plaque.
Use the method you and your dentist think best to keep your implants plaque-free. Following the instruction on the video here will help reduce your risk of a gum infection that could endanger your implant-supported bridgework.


All-On-4 Dental Implants Dentist Reviews
" I spend close to one year looking for an All-on-4 dental implants doctor. I had three consultations during my journey on finding the best dental implant provider to replace my failing dental work and fix my gum disease. My front teeth were in bad shape. I'm was impressed with Dr Arocha years of experience, his patience for listening to everything I had to say, his friendly assistant and his genuinely caring personality. He spend one hour and twenty minutes with me alone going over EVERYTHING with me. What a passionate dentist he is. I have traveled from Georgia for a All-on-4 consultation to meet Dr Max Arocha in south Florida and find out about the sedation he offered including general anesthesia. I was delighted to also find out that his All-on-4 cost was the most affordable out of the four consultations I had. I had the All-on-4 procedure done in about 3 hrs under sedation. I don't remember anything but the best part is that I did not have any pain the next day of the surgery. None!!!! Zero!!! I don't know how Dr Arocha does it. This is truly an amazing doctor with stunning results. I highly recommend Max Arocha DMD for All-on-4 dental implants. Once you get to meet him in person you come to realize that you are in great hands.Doctor and staffing are bilingual "
" Max Arocha DMD actual patient review. All-on-4 patient review
What to eat after ALL-ON-4 Surgery
We suggest being on a soft diet for the first 12 weeks of healing. During this time your 4 implants are integrating, also known as fusing into the bone, while wearing your fixed bridge prosthesis.
It is recommended to eat lean protein and high fiber food after ALL-ON-4 Implants surgery for a fast recovery at the implant wound site.
Eating the right foods after surgery may prevent complications including constipation, pain, and infection, and provide the building blocks of protein your gums and implants in your jaw bone need to heal. For detailed information on what to eat after ALL-ON-4 surgery visit https://www.drarocha.com/all-on-4-diet.html
Dental implant cost
As of June of 2023 dental implant cost for one tooth is about $2,000 plus a customized dental implant crown, known as a dental implant cap, that screws directly into the dental implant itself once it is placed and healed into the jaw bone. When the cost is over $2,000 for a single dental implant placement, it means the condition of the gums and jaw bone may need bone grafting, gum soft tissue treatment, and extraction.
Keep in mind that no two patients and their customized dental implant treatments are exactly the same, so the number of follow-up appointments, procedures, and cost of dental implants varies depending on the clinical condition of the treatment site. Unlike other tooth replacement options, dental implants are highly customized for your teeth and gums.
Keeping that in mind, the cost of dental implants compares favorably to other tooth replacement options because dental implants are a lasting permanent solution that does not involve touching near teeth. In certain clinical conditions, other teeth replacement options may be best. However, other options may appear to have a lower upfront cost, but you may continue to pay that cost over and over, making it expensive compared to dental implants.
The total cost for a dental implant to replace a single tooth, including one implant crown, known as a cap, is estimated to be in the range of $3,000 to $4,200. However, the key for you to get the lowest possible cost is to send us a dental x-ray of the tooth or missing tooth via email. This way Dr. Arocha can review it and allow us to provide you with an estimated cost over the phone.
All-on-4 for teeth-in-a-day in Plantation, FL, Fort Lauderdale, Davie, Hollywood, Cooper City, Coral Springs, Miami, Pembroke Pines, Weston, Palm Beach, Pompano Beach, Naples, Delray Beach, Florida. Zipcodes: 33324, 33325