All-ON-4 DENTAL IMPLANTS LIVE CHAT
UPDATED June of 2022. Welcome to our All-On-4 Live Chat! Easy access to a live certified All-on-4 doctor and his assistant.
Hello! I'm Nichol, Dr. Arocha's all-on-4 assistant. If you need my assistance – I'm here to help whenever you are ready.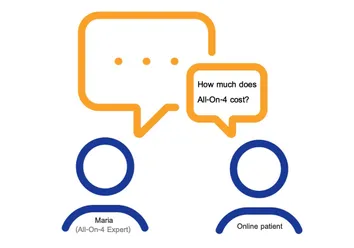 Our All-On-4 Live chat is a great way to find out accurate and relevant answers to your all-on-4 dental implant questions from one of our all-on-4 experts or clinicians. Our live chat delivers All-on-4 real-time patient service. Our live chat is the most popular free tool online for real-time all-on-4 assistance to patients looking for an accurate quick answer to their concerns. The main benefits of using our online all-on-4 chat are:
·

Alive and a real person (all-on-4 doctor assistant) is available at no obligation.

It is secure, quick, free, and easy.

Being available for a chat with all-on-4 doctor assistance without delaying relevant answers to your all-on-4 questions helps to resolve your concerns quickly.
Our live chat software for all-on-4 procedures helps to communicate instantly without letting patients wait for a long time. The chat conversations become interactive by using our chat window on the bottom right of the screen.
All-on-4 dental implants support in minimum time
With our live chat, Maria (All-On-4 doctor assistant) connects with the patient in real-time using her mobile device. Identified complex questions about All-on-4 dental implant procedures for teeth in a day can now be resolved in the first contact with us.
We speak All-0n-4!!! We have helped hundreds of online patients answer their specific questions on the first live chat contact. With other reactive approach channels, such as email or online forms, it is at times difficult to figure out a patient's issues because it can many times be read and make inaccurate assumptions.
With live chat, the patient can reach Maria who speaks All-on-4 and is able to answer all relevant questions and share her daily knowledge and experience.
Additional benefits of our live chat are:
Response time

– refers to the time between the chat started by the patient and when it is responded to by Maria.

First contact resolution

– How well Maria handles the chats and resolves patients in the first contact.
" Our live chat is not perfect at times...but All-on-4 dental implants procedure for Teeth-in-a-Day is what we do for a living. We are here to help ". Maria Sherman (All-On-4 Doctor Assistance)