All-on-4 Implants Dentist Fort Lauderdale
Patent holder, Dr Arocha, is consider a top certified dental Implant dentist in South Florida. He is a prolific innovator and awarded numerous U.S. and international patents in the field of dental medicine. Dr Arocha has pioneered sedation dentistry with advanced minimal invasive laser techniques for fast recovery in certain clinical cases. He is certified in sedation and providing an anxiety-free dental implant visit with twilight sedation and general anesthesia. His clinic take all major dental insurance and offer payment plan options for the convenience of his patients.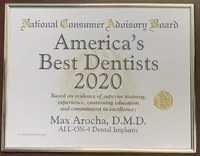 We know how important your smile can be in your day-to-day activities. This is why every team member, from Dr. Arocha and Dr. Jaquez to our dental hygienist, keeps up with the top-of-the-line technology and methods so that we can provide you with the best dental service.
Finding the best dentist can be an overwhelming process. Where do you start? Asking your co-workers or friends can be helpful. Other options such as referral services can often require dentists to pay for their listings. Here at our office, it is our mission to provide you with the best dental experience.
The modern implant techniques and methods used by our office, like dental lasers, will put you at ease with our caring personality, gentle treatments, a relaxing atmosphere, and sedation options.
Dr. Max Arocha was selected as one of "America's Best Dentists"! This honor places us among Fort Lauderdale's most respected dentists. Dr. Max Arocha holds hospital privileges at Memorial Regional Hospital. He is a prolific innovator and awarded U.S. and international patents in the field of sedation medicine and anesthesia delivery techniques.
Top Implant Dentist Florida
Award-winning Fort Lauderdale Dentist, Dr. Max Arocha is a trained and knowledgeable dentist with more than 15 years of experience in his field. With thousands of hours of advanced training in dental specialties, including all-on-4 dental implants and gum laser dentistry, he has established a world-class dental office in beautiful Fort Lauderdale, Florida.
Dr. Arocha provides a full range of dental services. As one of the top dentists in Fort Lauderdale, he realizes patients want a comprehensive dental practice that can handle their needs from routine teeth cleanings to the most complex dental implants.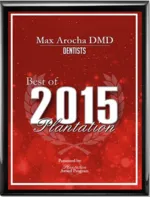 Best Local Implant Dentist
When you come to see Fort Lauderdale Implant Dentist, Dr. Arocha, about your dental implant care, you won't get a "one size fits all" dental treatment plan. Dr. Arocha understands that each patient is unique and that everyone has a different set of concerns, priorities, and needs when it comes to having a better smile.
"Improving your smile doesn't have to mean getting a full make-over, although we do a lot of that. It can be as simple as whitening your teeth," says Dr. Arocha.
"No matter what you do, something is available to change your smile, and that 'something' just might be the easiest youth-restoring action you've ever taken!".
Taking their unique approach to each patient, Dr. Arocha and Dr. Jaquez have changed the smiles and lives of many of their patients. With years of producing beautiful all-on-4 dental implant results, Dr. Arocha and Dr. Jaquez have become renowned as the best local dentists Fort Lauderdale has to offer.