ALL-ON-4 Dental Implants with photos
Posts for tag: tooth decay
Until recently, the standard treatment for tooth decay remained essentially the same for nearly a century: Remove any decayed structure, then prepare and fill the cavity. But that singular protocol has begun to change recently.
Although "drilling and filling" saves teeth, it doesn't fully address the causes of decay. In response, dentists have broadened their approach to the disease—the focus now is on an individual patient's particular set of risk factors for decay and how to reduce those.
At the heart of this new approach is a better understanding of oral bacteria, the true cause of decay. Bacteria produce acid, which can erode tooth enamel and create a gateway into the tooth for decay to advance. We therefore want to lower those risk factors that may lead to bacterial growth and elevated acidity.
One of our major objectives in this newer approach is to reduce plaque, a thin film of food particles used by bacteria for food and habitation. Removing plaque, principally through better oral hygiene, in turn reduces decay-causing bacteria.
Plaque isn't the only mechanism for bacterial growth and acidity. Appliances like dentures or retainers accumulate bacteria if not regularly cleaned. Reduced saliva flow, often due to certain medications or smoking, limits this fluid's ability to buffer acid and acid reflux or acidic beverages like sodas, sports or energy drinks can disrupt the mouth's normal pH and increase the risk for enamel erosion.
Our aim, then, is to develop a long-term strategy based on the patient's individual set of oral disease risk factors. To determine those, we'll need to examine their medical history (including family), current health status and lifestyle habits. From there, we can create a specific plan targeting the identified risk factors for decay.
Some of the elements of such a strategy might include:
Daily brushing and flossing, along with regular dental cleanings;
Fluoride dental products or treatments to strengthen enamel;
Changes in diet and excess snacking, and ceasing from any tobacco use;
Cleaning and maintaining appliances, as well as monitoring past dental work.
Improving the mouth environment by limiting the presence of oral bacteria and acid can reduce the occurrence of tooth decay and the extent of treatment that might be needed. It's a more nuanced approach that can improve dental health.
If you would like more information on tooth decay prevention and treatment, please contact us or schedule an appointment for a consultation. You can also learn more about this topic by reading the Dear Doctor magazine article "Tooth Decay: How to Assess Your Risk."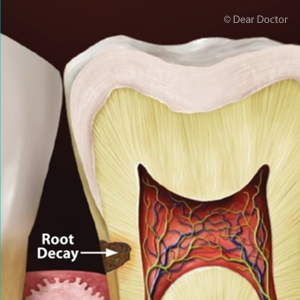 Finding out you have a cavity isn't the best of news. But finding out it's a root cavity is even worse: if not treated, the decay can spread more rapidly than a cavity occurring in the tooth's crown surfaces.
Our teeth are basically composed of two parts: the crown, the visible tooth above the gum line, and the roots, the hidden portion beneath the gums. The root in turn fits into a bony socket within the jaw to help hold the tooth in place (along with attached gum ligaments).
A tooth crown is covered by an ultra-hard layer of enamel, which ordinarily protects it from harmful bacteria. But when acid produced by bacteria comes into prolonged contact with enamel, it can soften and erode its mineral content and lead to a cavity.
In contrast to enamel, the roots have a thin layer of material called cementum. Although it offers some protection, it's not at the same performance level as enamel. But roots are also normally covered by the gums, which rounds out their protection.
But what happens when the gums shrink back or recede? This often occurs with gum disease and is more prevalent in older people (and why root cavities are also more common among seniors). The exposed area of the roots with only cementum standing in the way of bacteria and acid becomes more susceptible to cavity formation.
Root cavities can be treated in much the same way as those that occur in the crown. We first remove any decayed tooth structure with a drill and then place a filling. But there's also a scenario in which the cavity is below the gum line: In that case, we may need to gain access to the cavity surgically through the gums.
If you have exposed root areas, we can also treat these with fluoride to strengthen the area against cavity formation. And, as always, prevention is the best treatment: maintain a daily schedule of brushing and flossing and regular dental cleanings to remove bacterial plaque.
Because decay can spread within a tooth, dealing with a root cavity should be done as promptly as possible. But if we diagnose and initiate treatment early, your chances of a good outcome are high.
If you would like more information on treating root cavities and other forms of tooth decay, please contact us or schedule an appointment for a consultation. You can also learn more about this topic by reading the Dear Doctor magazine article "Root Cavities."