ALL-ON-4 Dental Implants with photos
Posts for tag: oral hygiene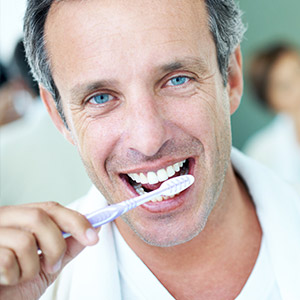 Your teeth can take decades of daily biting and chewing and not miss a beat. But they do have a nemesis, dental disease, which can easily get the upper hand. As a result, millions of people lose teeth each year to tooth decay and periodontal (gum) disease.
But while both the living tissue that makes up teeth and gums are susceptible to bacterial attack, the non-living materials in a life-like dental implant are impervious to disease. That being the case, you would think your implants wouldn't need as much hygiene as your other teeth.
But they still do. True, implants in themselves aren't affected by infection, but the bone and other tissues that support them can become diseased. This often happens with advanced cases of gum disease.
There is, in fact, a particular form of gum infection associated with implants called peri-implantitis ("peri"—around; "it is"—inflammation), which occurs in the gums around an implant. Once it starts, peri-implantitis can advance at a rapid pace.
This is because implants don't have the gum attachment of real teeth, which can fight and slow the advance of a gum infection. Because an implant doesn't have this attachment, any infection around it continues virtually unimpeded. If the bone supporting an implant becomes infected, it can weaken to the point that the implant fails.
But this dire scenario can be avoided with continuing hygiene and maintenance of the gum tissues surrounding the implant. You should brush and floss every day around implants to remove dental plaque, the bacterial film most responsible for dental disease, just as you do with natural teeth.
It's also important to keep up regular dental visits for cleanings to remove lingering plaque and tartar (hardened plaque). Your dentist may also notice and clean away any residual cement from the restoration, which can also cause gum inflammation.
And, you should promptly see your dentist if you notice any telltale signs of a gum infection, such as swelling, redness or bleeding, especially around implants. The quicker we diagnose and treat a case of gum disease, particularly peri-implantitis, the less likely it will endanger your implant.
If you would like more information on maintaining dental implant restorations, please contact us or schedule an appointment for a consultation.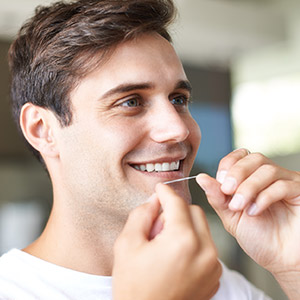 A certain news story a few years ago notwithstanding, dentists still recommend flossing along with brushing to adequately remove disease-causing plaque. If there is any controversy at all about flossing, it's whether you should perform it before brushing or after. Each perspective has good reasons.
"Brush First" proponents say their way encourages the formation of a daily hygiene habit, a must for preventing disease. That's because brushing can remove most of the plaque built up on the teeth, while flossing can then remove what's left. If you floss first, though, you'll have to plow through the sticky film with the floss, which can be an unpleasant experience. Facing that every day could make a person less enthusiastic about developing a hygiene habit.
But it's not just about the sensation: depending on the person, the plaque buildup could be so much that the floss becomes clogged with it. You're then moving the plaque rather than removing it. Brushing a lot of the plaque out of the way first will increase the cleaning power of your floss.
The "Floss First" team, though, is undaunted with their own take on the matter. Flossing can loosen up any stuck debris between teeth, making it easier for brushing to clear it away. It can also expose plaque-covered areas between teeth to allow better contact with the fluoride in your toothpaste. And, the amount of plaque you're pulling out in certain areas during flossing could tip you off to beef up your brushing efforts on those areas of heavier plaque accumulation.
One of the prime reasons for flossing first, though, goes back to the comfort factor and human nature. To be honest, for most people flossing isn't as much "fun" as brushing. If you put it off until after brushing, you're more likely not to do it if you find it unpleasant. Doing it first gets the less likeable task out of the way, so you can then do the more likeable one, brushing.
Which approach is best for you? It's really a personal decision, one you can discuss with your dentist. Try both ways, and see which one seems better. But whether you floss first or last, do floss to really reduce your risk for dental disease.
If you would like more information on best oral hygiene practices, please contact us or schedule an appointment for a consultation. You can also learn more about this topic by reading the Dear Doctor magazine article "Brushing and Flossing: Which Should be Done First?"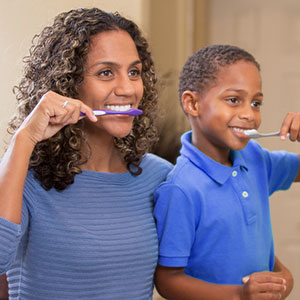 Do you want to give your child something that will benefit them the rest of their life? Then give them the gift of healthy teeth and gums.
Such a gift doesn't come wrapped in a box with a bow on it—you bestow it first by ensuring they receive the utmost in dental care during their formative years. Even more importantly, you instill in them good oral care habits that will protect their dental health for the rest of their lives.
Oral Hygiene 101. Daily hygiene—brushing and flossing to remove disease-causing dental plaque—is the foundation for maintaining a lifetime of optimal dental health. Early on, you'll have to perform these tasks for your child, but the true gift is in teaching them to brush and floss effectively for themselves (and your dentist can help too!).
How's my brushing? There's oral hygiene—and then there's effective oral hygiene. For a quick check, there's a simple test you can teach your child to make sure they're brushing and flossing correctly: Just after they finish, have them rub their tongue all along their teeth. If the teeth feel smooth, they've made the grade! If it feels gritty, though, they'll need to try again. (For better accuracy, you can also purchase a disclosing solution at your local pharmacy that when applied to teeth will reveal any remaining plaque.)
Eating for dental health. Instilling the values of proper nutrition not only promotes your child's overall health, it can also help them have healthier teeth and gums. Foods rich in vitamins and minerals, especially vitamin D, calcium and phosphorus, help build strong teeth and bones. Avoiding processed foods, especially those with added sugar, helps them avoid tooth decay or gum disease.
Mouth protection from injury. As your child grows and becomes more active, they're more at risk for injury to their mouth, teeth or gums. Help them break habits like chewing on hard objects, and insist on them wearing a mouthguard while playing sports. As they enter the teen years, encourage them to avoid "mouth jewelry" that could damage their tooth enamel.
These values and practices are often woven into the fabric of everyday life. They take relatively little time, but they can make a huge impact on your child's oral health future.
If you would like more information on dental care for kids, please contact us or schedule an appointment for a consultation. You can also learn more about this topic by reading the Dear Doctor magazine article "How to Help Your Child Develop the Best Habits for Oral Health."