ALL-ON-4 Dental Implants with photos
Posts for tag: dental implants
Do you want to complete your smile? You can now restore your perfect smile with dental implants from your Plantation, FL, dentists at Sedation Dentistry.
What are dental implants?
Dental implants are the only tooth replacement method that replaces your tooth root, not just the crown. During the procedure, your dentist will replace the tooth roots with metal screw-like posts. The posts are responsible for supporting the upper part of the implant. The upper part can be single or multiple crowns, fixed bridges, or removable loose dentures. The important thing about dental implants is that they look exactly like your natural teeth.
How is the procedure done?
Before they start the procedure, your dentist will perform a check-up using x-rays. This step is done to be sure that you don't have any cavities and your jawbone can tolerate the posts and support them well. After that, your dentist will place the metal posts, which serve as your tooth roots. The titanium inside the posts will fuse with your jawbone, forming stable non-slippery implants.
Usually, the process takes several appointments to be done. In Sedation Dentistry, we offer one-day dental implants in our Plantation, FL, office. So, our patients can get their implants done in just one appointment. We are specialized in general anesthesia and twilight sedation, which will beat your dental anxiety. Also, our advanced minimal invasive laser techniques provide a fast recovery in some cases.
Who are the candidates for dental implants?
After doing the needed oral examinations, our dentists can decide whether you are a candidate for this procedure or you are not. To have a dental implant, patients must have:
Enough bone density
Fully developed jawbone
Healthy oral cavity
Some health conditions, as well as tobacco smoking, might delay bone healing. Your dentist will check for these problems and then takes their decision.
Post-procedure care
Brushing twice daily and flossing at least once, are enough to keep your implants healthy. They don't require any special care, which makes them easy to handle. Also, they can't decay, which is an added benefit.
Restore your smile with dental implants in Plantation, FL, and enjoy your fabulous appearance. Visit your dentists of Sedation Dentistry to get the best dental treatments and care. Call us at (954) 432-7771 to book your appointment.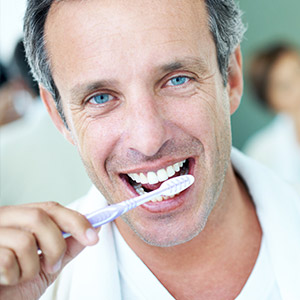 Your teeth can take decades of daily biting and chewing and not miss a beat. But they do have a nemesis, dental disease, which can easily get the upper hand. As a result, millions of people lose teeth each year to tooth decay and periodontal (gum) disease.
But while both the living tissue that makes up teeth and gums are susceptible to bacterial attack, the non-living materials in a life-like dental implant are impervious to disease. That being the case, you would think your implants wouldn't need as much hygiene as your other teeth.
But they still do. True, implants in themselves aren't affected by infection, but the bone and other tissues that support them can become diseased. This often happens with advanced cases of gum disease.
There is, in fact, a particular form of gum infection associated with implants called peri-implantitis ("peri"—around; "it is"—inflammation), which occurs in the gums around an implant. Once it starts, peri-implantitis can advance at a rapid pace.
This is because implants don't have the gum attachment of real teeth, which can fight and slow the advance of a gum infection. Because an implant doesn't have this attachment, any infection around it continues virtually unimpeded. If the bone supporting an implant becomes infected, it can weaken to the point that the implant fails.
But this dire scenario can be avoided with continuing hygiene and maintenance of the gum tissues surrounding the implant. You should brush and floss every day around implants to remove dental plaque, the bacterial film most responsible for dental disease, just as you do with natural teeth.
It's also important to keep up regular dental visits for cleanings to remove lingering plaque and tartar (hardened plaque). Your dentist may also notice and clean away any residual cement from the restoration, which can also cause gum inflammation.
And, you should promptly see your dentist if you notice any telltale signs of a gum infection, such as swelling, redness or bleeding, especially around implants. The quicker we diagnose and treat a case of gum disease, particularly peri-implantitis, the less likely it will endanger your implant.
If you would like more information on maintaining dental implant restorations, please contact us or schedule an appointment for a consultation.
By Max Arocha DMD
March 04, 2021
All-on-4 dental implants is a method for restoring your smile following extensive tooth loss. This tooth-replacement method makes it possible to secure a fixed bridge or denture in place with just four dental implants rather than the six to eight that are normally required. In addition to requiring fewer dental implants, there are many other benefits associated with the All-on-4 method. The highly skilled dentists at our office in Plantation, FL, can restore your smile with All-on-4 dental implants.
What is All-on-4?
Many options are available today for restoring your smile following tooth loss. Common options include bridgework, dentures, and dental implants. When used together, dental implants can secure a dental bridge or denture in place so dental adhesives are not needed to hold it. Normally, six to eight dental implants are required to fix a full bridge or denture in place. However, advances in implant dentistry have made it possible to securely anchor these dental appliances with just four implants. This method is referred to as All-on-4 dental implants.
The way All-on-4 works is by placing dental implants in the jaw bone at an angle. Inserting them at an angle allows for greater contact between the dental implants and bone tissue, which creates a stronger hold. This is the reason a bridge or denture can be firmly anchored in place with just four dental implants.
Not everyone will be a candidate for All-on-4 dental implants. An essential criterion for this option is having enough bone structure in the jaw area to support the placement of the dental implants. Normally, the metal implants and bone tissue naturally fuse together over time, but this cannot occur if there is insufficient bone structure. Unfortunately, one of the side effects of tooth loss is bone loss so All-on-4 is not an option for everyone. The knowledgeable dentists at our office in Plantation, FL, can determine if All-on-4 dental implants is a possibility for you.
Advantages of All-on-4
All-on-4 dental implants offer numerous benefits. Fewer dental implants mean fewer surgical incisions must be made, which is more cost-effective. Fewer surgical incisions also mean many patients experience less discomfort during the implant procedure.
Additional benefits of All-on-4 dental implants include quick restoration of your smile with long-lasting results. Most of the lab work involved in creating custom prosthetic teeth can be done in-house, which means your replacement teeth can often be ready within 24 hours. Additionally, All-on-4 dental implants can last for years with proper care so you can enjoy your newly restored smile for a long time before additional dental work is needed.
There are many benefits to restoring your smile with All-on-4. Schedule a free consultation with one of our experienced dentists to learn more about All-on-4-dental implants by calling our office in Plantation, FL, at (954) 432-7771.