ALL-ON-4 Dental Implants with photos
Posts for tag: celebrity smiles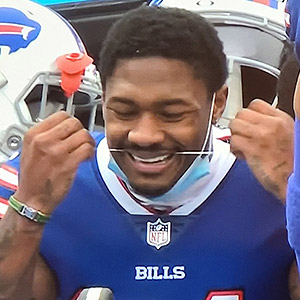 Buffalo Bills wide receiver Stefon Diggs wrapped up the NFL regular season in January, setting single-season records in both catches and receiving yards. The Bills handily beat the Miami Dolphins, earning themselves the second seed in the AFC playoffs, and Diggs certainly did his part, making 7 catches for 76 yards. But what set the internet ablaze was not Diggs' accomplishments on the field but rather what the camera caught him doing on the sidelines—flossing his teeth!
The Twitterverse erupted with Bills fans poking fun at Diggs. But Diggs is not ashamed of his good oral hygiene habits, and CBS play-by-play announcer Kevin Harlan expressed his support with "Dental hygiene is something to take note of, kids! There's never a bad place to floss" and "When you lead the NFL in catches and yards, you can floss anytime you want."
We like to think so. There's an old joke among dentists:
Q. Which teeth do you need to floss?
A. Only the ones you want to keep.
Although this sounds humorous, it is borne out in research. Of note, a 2017 study showed that people who floss have a lower risk of tooth loss over periods of 5 years and 10 years, and a 2020 study found that older adults who flossed lost an average of 1 tooth in 5 years, while those who don't lost around 4 teeth in the same time period.
We in the dental profession stress the importance of flossing as a daily habit—and Stefon Diggs would likely agree—yet fewer than 1 in 3 Americans floss every day. The 2016 National Health and Nutrition Examination Survey (NHANES), conducted by the CDC's National Center for Health Statistics, revealed that only 30% of Americans floss every day, while 37% floss less than every day and 32% never floss.
The biggest enemy on the football field may be the opposing team, but the biggest enemy to your oral health is plaque, a sticky film of bacteria and food debris that builds up on tooth surfaces. Plaque can cause tooth decay and gum disease, the number one cause of tooth loss among adults. Flossing is necessary to remove plaque from between teeth and around the gums where a toothbrush can't reach. If not removed, plaque hardens into tartar, which can only be removed by the specialized tools used in the dental office. Regular professional dental cleanings are also needed to get at those hard-to-reach spots you may have missed.
If Diggs can find time to floss during a major NFL game, the rest of us can certainly find a couple minutes a day to do it. While we might not recommend Diggs' technique of flossing from one side of the mouth to the other, we commend his enthusiasm and commitment to keeping his teeth and gums healthy. Along with good dental hygiene at home—or on the sidelines if you are Stefon Diggs—regular professional dental cleanings and checkups play a key role in maintaining a healthy smile for life.
If you would like more information about keeping in the best dental health, please contact us or schedule a consultation. To learn more, read the Dear Doctor magazine article "Daily Oral Hygiene."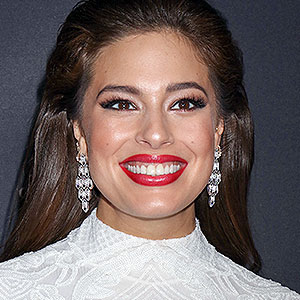 Ashley Graham has a beautiful and valuable smile—an important asset to her bustling career as a plus-size model and television host. But she recently revealed on Instagram a "confrontation" between one of her teeth and a frozen oatmeal cookie. The cookie won.
Holding her hand over her mouth during the video until the last moment, Graham explained how she sneaked a cookie from her mom's freezer and took a bite of the frozen treat. Taking her hand from her mouth, she revealed her broken tooth.
Okay, maybe it wasn't an actual tooth that was broken: the denticle in question appeared to have been previously altered to accommodate a porcelain veneer or crown. But whatever was once there wasn't there anymore.
Although her smile was restored without too much fuss, Graham's experience is still a cautionary tale for anyone with dental work (and kudos to her for being a good sport and sharing it). Although dental work in general is quite durable, it is not immune to damage. Biting down on something hard, even as delicious as one of mom's frozen oatmeal cookies, could run you the risk of popping off a veneer or loosening a crown.
To paraphrase an old saying: Take care of your dental work, and it will take care of you. Don't use your teeth in ways that put your dental work at risk, tempting as it may be given your mouth's mechanical capabilities.
 Even so, it's unwise—both for dental work and for natural teeth—to use your teeth and jaws for tasks like cracking nuts or prying open containers. You should also avoid biting into foods or substances with hard textures like ice or a rock-hard cookie from the freezer, especially if you have veneers or other cosmetic improvements.
It's equally important to clean your mouth daily, and undergo professional cleanings at least twice a year. That might not seem so important at first since disease-causing organisms won't infect your dental work's nonliving materials. But infection can wreak havoc on natural tissues like gums, remaining teeth or underlying bone that together often support dental enhancements. Losing that support could lead to losing your dental work.
And it's always a good idea to have dental work, particularly dentures, checked regularly. Conditions in the mouth can change, sometimes without you noticing them, so periodic examinations by a trained dental provider could prevent or treat a problem before it adversely affects your dental work.
We're glad Ashley Graham's trademark smile wasn't permanently harmed by that frozen cookie, and yours probably wouldn't be either in a similar situation. But don't take any chances, and follow these common sense tips for protecting your dental work.
If you would like more information on care and maintenance of cosmetic dental work, please contact us or schedule a consultation. To learn more, read the Dear Doctor magazine articles "Porcelain Veneers: Strength & Beauty as Never Before" and "Dental Implant Maintenance."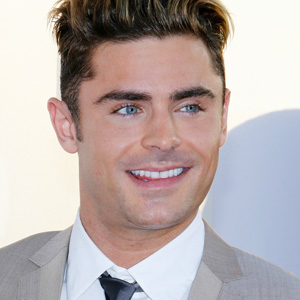 Actor Zac Efron has one of the top smiles in a business known for beautiful smiles. Bursting on the scene in 2006 at age 18 in High School Musical, Efron has steadily increased his range of acting roles. He recently starred as Ted Bundy on Netflix, wearing prosthetics to match the notorious serial killer's crooked teeth.
With his growing fame, Efron's attractive smile has become one of his more memorable attributes. But it wasn't always so. Before Hollywood, Efron's smile was less than perfect with small, uneven teeth and a gap between his top front teeth. Before and after pictures, though, make it quite apparent that the actor has undergone a significant smile makeover.
While fans are abuzz on the 411 regarding his dental work, Efron himself has been hush-hush about his smile transformation. We won't join the speculation: Instead, here are a few possible ways you can get a more attractive smile like Zac Efron.
Teeth whitening. A single-visit, non-invasive teeth whitening procedure can transform your dull, stained teeth into a brighter, more attractive smile. Although the effect isn't permanent, it could last a few years with a professional whitening and good oral practices. Having it done professionally also gives you more control over the level of shading you prefer—from soft natural white to dazzling Hollywood bright.
Orthodontics. Like Efron, if your teeth aren't quite in proper alignment, straightening them can make a big difference in your appearance (and your oral health as well). Braces are the tried and true method for moving teeth, but you may also be able to choose clear aligner trays, which are much less noticeable than braces. And don't worry about your age: Anyone with reasonably good dental health can undergo orthodontics.
Bonding. We may be able to correct chips and other slight tooth flaws with durable composite resins. After preparing your tooth and matching the material to your particular color, we apply it directly to your tooth in successive layers. After hardening, the unsightly defect is no more—and your smile is more attractive.
Veneers. Dental veneers are the next step up for more advanced defects. We bond these thin, custom-made layers of dental porcelain to the front of teeth to mask chips, heavy staining and slight tooth gaps. Although we often need to permanently remove a small amount of tooth enamel, veneers are still less invasive than some other restorations. And your before and after could be just as amazing as Zac Efron's.
Improving one's smile isn't reserved for stars like Zac Efron. There are ways to correct just about any dental defect, many of which don't require an A-lister's bank account. With a little dental "magic," you could transform your smile.
If you would like more information about how to give your smile a boost, please contact us or schedule a consultation. To learn more, read the Dear Doctor magazine articles "The Magic of Orthodontics" and "Porcelain Veneers."