ALL-ON-4 Dental Implants with photos
Posts for: May, 2022
Which celebrity has the most attractive smile? You might think the answer is purely subjective. What strikes you as the fairest may fall flat with someone else.
A dental group attempted to answer the question objectively by measuring the size and alignment of celebrities' teeth on a scale based on the "golden ratio." Often used in fields like art or architecture, the golden ratio (1.618 in decimal form) is universally considered the aesthetically ideal proportion for object sizes, and in relation to other objects—in this case, teeth.
The group applied the ratio to various aspects of individual celebrities' smiles using a pre-determined grading scale. And, their winner: actress Ellen Pompeo, scoring 5.91 out of 10 for overall attractiveness. She was closely followed by Gal Gadot, Melissa McCarthy, and Scarlett Johansson, respectively.
Not to be outdone, another group chose a different method to identify the top smile among the world's royalty by analyzing online search data for the most "Googled" royal smile. The winner: Kate Middleton, Duchess of Cambridge and wife of Prince William, with an astounding 36,000 average searches each year. Her sister-in-law, Meghan Markle, came in a distant second.
Although you may not warm to these purportedly objective approaches to smile beauty, you'll have to agree the winners do have beautiful smiles. And, so do many others in the celebrity world where an attractive smile is the rule, not the exception. And while some celebrity smiles come naturally, quite a few have overcome dental flaws by cosmetically enhancing what nature gave them.
The good news, though, is that a beautiful smile isn't the exclusive domain of the rich and famous. Anyone can improve their dental appearance, and oftentimes affordably.
For example, restoring the teeth's original shine and luster can do wonders for a smile. Daily hygiene and regular dental cleanings help reduce staining. And for a truly bright smile, a professional teeth whitening can give you just the right amount of shine you desire.
You may be able to overcome chips, cracks, or similar defects with dental bonding, the application of dental material to the teeth to make them flawless. For more extensive defects, including slight gaps, porcelain veneers bonded directly to the tooth face can hide those defects from view.
Is your smile crooked? You can straighten it with braces or removable clear aligners—and at any age, so long as you and your teeth are reasonably healthy. Orthodontics also improves your dental health as well as your appearance.
These and many other cosmetic techniques can turn a lackluster smile into a winner. No objective test needed—one look in the mirror will leave you happy and satisfied.
If you would like more information about improving your smile, please contact us or schedule a consultation. To learn more, read the Dear Doctor magazine article "The Magic of Orthodontics."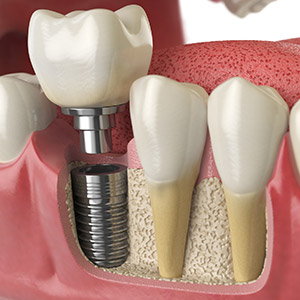 Dental implants have taken restorative dentistry by storm for a number of reasons: They're incredibly life-like; and their unique design allows them to function much like natural teeth. But perhaps the clincher for many is their longevity. Numerous studies show that more than 95% percent of implants are still performing after 10 years.
The reason for their durability is wrapped up in their "unique design" mentioned earlier—a titanium metal post imbedded into the jawbone, to which a dentist attaches the visible crown. The titanium attracts the growth of new bone cells, which adhere and accumulate on the implant surface.
This "integration," a process which occurs over a few weeks after implantation, creates a strong bond between the implant and jawbone. This ultra-strong hold enables the implant to withstand years, if not decades, of chewing forces you generate on a daily basis.
With that said, though, there are rare instances when an implant loses its hold—or doesn't properly develop it. Integration may not fully succeed due to infection either before or right after surgery, which can inhibit bone growth around the implant.
Other conditions can compromise the bone's integrity like a weakened immune system, diabetes or osteoporosis. And even if integration occurs normally, later problems like gum disease or a teeth-grinding habit can damage the connection between implant and bone.
There are things you can do, however, to further minimize the risk of implant failure.
Brush and floss daily (especially around implants) and maintain regular dental visits to lower your risk of gum disease;
See your dentist if you notice swollen, reddened or bleeding gums, an indication of a gum infection that could impact your implants;
Stop smoking, which increases your infection risk, or abstain a few weeks before and after surgery;
Manage issues like diabetes, osteoporosis, or teeth-grinding that could affect your implants.
Implants can be a great long-term solution to tooth loss. You can help ensure their longevity by looking out for both your oral and general health.
If you would like more information on dental implant restorations, please contact us or schedule an appointment for a consultation. You can also learn more about this topic by reading the Dear Doctor magazine article "Dental Implants: A Tooth-Replacement Method That Rarely Fails."