ALL-ON-4 Dental Implants with photos
Posts for: February, 2022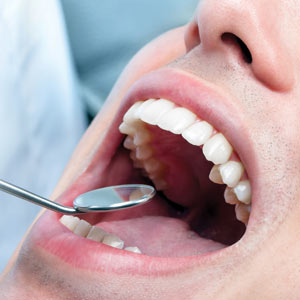 Replacing missing teeth can do wonders for a smile. And you have solid options for doing so, from a partial denture to state-of-the-art dental implants. But there might be a roadblock to your restoration plan—literally. Some of your other teeth may be in the way.
When a tooth has been missing for a while, the teeth on either side of a tooth gap will naturally begin to move or "drift" into the space. This could result in an inadequate amount of available space for a prosthetic (false) tooth.
If that happens, we'll first need to move the errant teeth back to where they belong, either with traditional braces or removable clear aligners. If we're successful, we can then proceed with the missing tooth restoration.
But before starting orthodontic treatment, there may be another problem that needs our attention first. If your missing teeth are the result of periodontal (gum) disease, your gums and supporting bone may not be as healthy as they need to be. This can interfere with orthodontics, which often depends on the gums and bone around a tooth being healthy enough to reform as the tooth moves. That may not be possible if they're still infected with gum disease or you've suffered significant bone loss.
If that's the case, it may be necessary to first treat any gum disease present and rebuild the bone. The latter can often be done by grafting bone material to the area of loss. The graft then serves as a scaffold of sorts upon which new bone can grow and accumulate. And reducing gum disease, mainly by removing bacterial plaque, allows the gums to heal and regain attachment with the teeth.
Once your gums and bone are healthy again, we can then proceed with orthodontics. After the teeth are reasonably aligned, we can then complete the restoration for replacing your missing teeth, and any other cosmetic enhancements for your remaining teeth like veneers or crowns.
The entire process may take some time and multiple treatment visits. But gaining a more attractive smile in the end is well worth it.
If you would like more information on dental implants, please contact us or schedule an appointment for a consultation.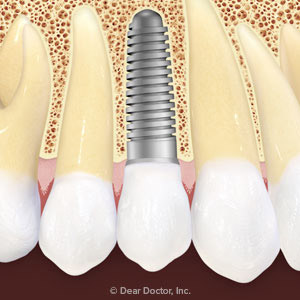 What's Involved in Getting a Dental Implant?
Although the term "surgery" is broad enough to drive a proverbial truck through, we can roughly categorize procedures as either major or minor. Installing an implant is decidedly in the minor column.
Akin to having a tooth extraction, implant surgery can be done painlessly in a dentist's office with very little discomfort afterward. If you're considering a dental implant, going through this surgical procedure shouldn't worry you.
Still, it's hard not to feel a little nervous about any type of surgery, even one as minor as getting an implant. That's where shining a little more light in the way of information can help dissolve any lingering anxiety. Here, then, is an overview of dental implant surgery from start to finish.
First, a little planning. Preparation beforehand helps eliminate any potential snags during surgery. During earlier visits, your dentist will completely map out the procedure with x-rays or CT scanning of your jaws to locate any obstacles, followed by the preparation of a surgical guide placed in the mouth to direct drilling.
Numbing the pain. The dentist begins the surgery by completely deadening the area with local anesthesia. This is usually done with an anesthetic swab of the surface gums to numb the needle prick, which is then used to deliver the remaining anesthetic to the deeper tissues and bone.
Creating the channel. After ensuring the area is fully anesthetized, the dentist will expose the bone by making small incisions in the gums. Then, using the surgical guide, they'll drill a small hole, incrementally enlarging it until it matches the size of the implant post.
Installing the implant. After drilling, the dentist removes the implant from its sterile packaging and directly places it into the prepared channel. The dentist then ensures the implant positioning is correct, often checking with additional x-rays. They'll then suture the gums back into place to protect the implant.
You may initially have a few days of mild discomfort, usually manageable with over-the-counter pain relievers. Over the next few weeks, new bone cells will form and adhere to the implant to create a durable bond. You'll then be ready for the attachment of a life-like crown.
Surgery is one step in a long process. But it's an important step—and with the resulting smile outcome, well worth it.
If you would like more information on dental implants, please contact us or schedule an appointment for a consultation. You can also learn more about this topic by reading the Dear Doctor magazine article "Dental Implant Surgery."